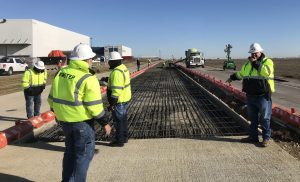 At Foster CM Group, our staff of qualified construction professionals excel in providing superior project and program/construction management services. We strongly believe that our success hinges upon the quality of our staff and the relationships that we have created with our clients.
Since our inception in 1992, Foster CM Group has proven itself as a leader in the program/construction management industry. We are proud of the record we have established in solidifying business relationships that culminate into successful projects for our clients. Our focus is to ensure that each project is carried out thoughtfully to achieve program schedule, budget, and quality. Our resolve is to create a collaborative project environment in which programming, planning, scheduling, economy of resources, quality and safety are not goals, but realities.
Vision:
Foster CM Group strives to be the leader in representing Owner's in managing construction projects and programs while providing the highest quality of services dictated by the project scope.
Mission:
To listen, be thoughtful and innovative managers; investing in the growth and training of professional staff to bring quality to the built environment while providing a pragmatic approach to risk mitigation and problem solving while maintaining the highest level of trust, honesty and integrity to clients within diverse communities.
Corporate Brochure:
Click HERE to download our corporate brochure to discover more about our service offerings.